Regenerate Ukrainians
We provide children and adults who lost a limb during the war or were born without it with prosthetic hands.
Scroll down
Our dream and our aspiration is to help Ukrainians
Wars bring enormous suffering, and it does not end when wars end. For many men, women, and children their life changes forever when they lose their limbs. Together we can save them from suffering, bring their lives and their dignity back, let them enjoy their lives again and be useful for their families and their communities.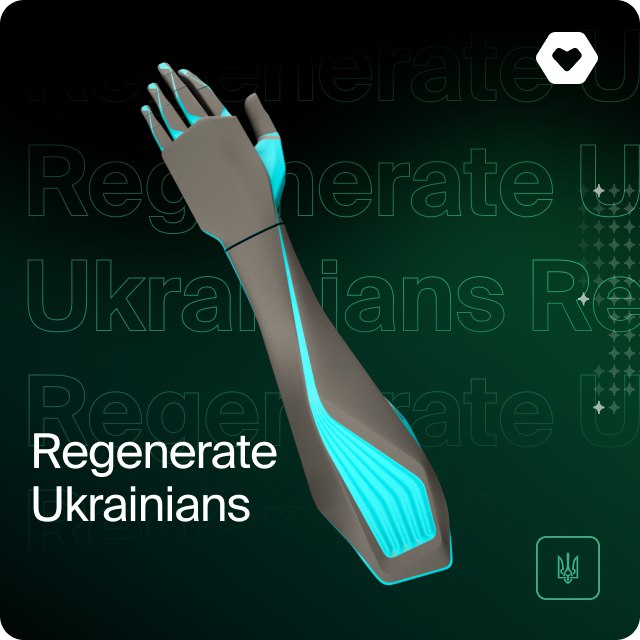 Bionic prosthetics for Ukrainians
Today, as a result of the war in Ukraine, thousands of military personnel, as well as civilian adults and children, have lost their limbs, and according to the forecasts of the Prosthetics Support Project in Ukraine, more than 3,000 people will need prosthetic limbs in the coming years.
Currently, Ukrainians in need of prosthetics turn to international suppliers of prosthetics for help. The first Ukrainians who lost limbs during the war were sent to the USA, Great Britain, and Germany to receive a prosthesis and undergo rehabilitation.
Why Ukrainian prostheses?
Unfortunately, for thousands of Ukrainians, cooperation with international manufacturers of prostheses does not solve the problem. As each such trip abroad requires a lot of precious time and solving a whole series of organizational issues that are not related to prosthetics (passports, visas, tickets, accommodation, coordinating schedules with clinics and manufacturers, etc.), and at the same time significantly, sometimes up to half, increase its price.
So Ukrainians need prostheses made in Ukraine. And such a manufacturer appeared: in September 2022, the Allbionics.ai company began its own development and production of bionic hand prostheses for Ukrainians.
From March 2023, hand prostheses will be provided to injured Ukrainians FREE OF CHARGE thanks to an international fundraising campaign launched by the Dopomogator Foundation.
Ukrainian bionic hand prostheses Regenerate Ukrainians

Combined 3D-printed materials provide strength and comfort
01
Touch control of the fingers allows you to control the necessary grips
02
Sizes and color choices are individual for each user
03
Built-in machine learning technology facilitates skill acquisition
04
A printed array of sensors provides precise control for users with various types of amputations
05
The flexible porous lining is printed individually for the user, provides reliable fixation and comfort when changing hands
06
Stages of providing a prosthesis to injured Ukrainians: